Unga introduceras till antisemitism och konspirationsteorier via appar som Tik Tok och Instagram och hatet är närvarande på alla socialamedier-plattformar.
Det visar en ny rapport från Stiftelsen Expo i samarbete med HOPE not hate och Stiftelsen Amadeu Antonio.
– Läget är värre än vi trodde, säger Expos vd Daniel Poohl.
Trots att sociala medier-företag i åratal försökt reglera och moderera förekommer omfattande antisemitism på samtliga plattformar visar rapporten Antisemitism in the Digital Age: Online Antisemitic Hate, Holocaust Denial, Conspiracy Ideologies and Terrorism in Europe. Antisemitismen sprids i första hand via konspirationsteorier i skrift, bild/rörligt material samt via olika hashtags och har också ökat lavinartat under pandemin. Rapporten tar ett helhetsgrepp på antisemitiskt hat i sociala medier och undersöker förutom Tik Tok och Instagram också Facebook, Parler, Reddit, Telegram, Twitter, YouTube och "4chan /pol/".
– Läget är värre än vi trodde. Det är ytterst oroande att sociala medie-plattformarna fortsätter att sprida antisemitism. Och det är alarmerande att se det hända på plattformar som Instagram och TikTok där den stora majoriteten användare är unga. Som det är nu introduceras en ny generation, frivilligt eller inte, för antisemitiska idéer som de inte skulle stöta på någon annanstans, säger Daniel Poohl vd på Stiftelsen Expo.
– I ljuset av den ökande rasistiska terrorn i Europa som bland andra drabbar judar är det synnerligen allvarligt att plattformarnas insatser för att stoppa hatet misslyckats, fortsätter Daniel Poohl. Vår rapport visar att det går att göra något åt problemet. Både tekniksektorn och lagstiftare måste agera, och det snabbt.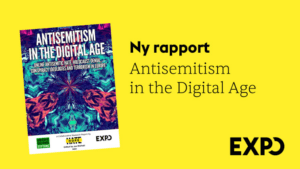 Rapporten visar bland annat på miljontals hashtaggar på Instagram som refererar till de antisemitiskt laddade konspirationsteorierna New World Order och Illuminati och att innehåll publicerat på Tik Tok med hashtaggarna #rothschildfamily, #synagogueofsatan och #soros visades 25,1 miljoner gånger på bara ett halvår.
Resultaten visar också att förekomsten av antisemitism är lägre på plattformar med starkare moderering. Bakom rapporten står Stiftelsen Expo, HOPE not hate och Amadeu Antonio Stiftelsen och arbetet har möjliggjorts genom projektstöd från Googles välgörenhetsorganisation Google.org.