Huawei arbetar med europeiska partners för att utveckla topptalanger och minska de digitala klyftorna i samhället
Den 10 december samlades mer än 80 studenter, tillsammans med representanter från startups, icke-statliga organisationer, konsultföretag och universitet från hela Europa i Helsingfors, Finland för Huawei Talent Summit – för att uppmärksammastudenternas prestationer under året i Huaweis talangutvecklingsprogram.
Diskussioner kring framtidens utmaningar som det digitala kompetensgapet, brist på telekomtalanger, jämställdhet och hållbarhet stod i fokus under dagen.
Några nyckelresultat från Huaweis och EY:s gemensamma vitbok om digitala färdigheter släpptes under mötet. Efterfrågan på digital kompetens ökar snabbt och gapet mellan utbud och efterfrågan på sådan kompetens blir allt större. Det råder en allvarlig brist på telekomtalanger i EU.
Det är på grund av detta som Huawei har åtagit sig att utveckla telekom och digitala talanger i alla länder där bolaget är verksamt. År 2008 startade bolaget de första talangutvecklingsprogrammen, inklusive stipendier, tekniktävlingar och digital kompetensträning. Sedan dess har Huawei investerat över 130 miljoner euro i dessa program, vilket har gynnat mer än 1,5 miljoner människor från mer än 150 länder.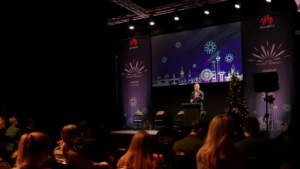 – Huawei arbetar med europeiska partners för att utveckla digitala topptalanger och minska de digitala klyftorna i samhället. I Europa har Huawei lanserat ett flertal program, såsom Seeds for the Future, ICT Academy och European University Challenge, för att etablera ett ekosystem av talangutveckling med universitet och högskolor. Huawei har åtagit sig att investera 2,5 miljoner euro i Seeds for the Future-stipendiet som kommer att ges till begåvade studenter i Europa inom ICT, säger Kenneth Fredriksen, Vice President för Huawei CEE & Nordic Region.
– Genom dessa program kommer Huawei att sträva efter att samarbeta med de bästa universiteten i Europa för att förbättra förmågorna och potentialen hos nästa generation av europeiska innovatörer, fortsätter Kenneth Fredriksen.
Kvinnor är särskilt underrepresenterade i den digitala arbetskraften, där över 80 procent av ICT-specialisterna i EU är män. I en paneldebatt på Huawei Talent Summit diskuterades hur man ska tackla denna fråga.
– Även om det kan ta år för att verkligen börja visa en betydande ökning andelen kvinnor i branschen, finns det redan otroligt framgångsrika kvinnor och kvinnliga ledare i sektorn. Att lyfta fram dem som förebilder har potential att påskynda förändringar, säger Dora Palfi, medgrundare och VD för imagiLabs.
Huawei har lanserat en rad initiativ för att främja jämställdhet och att fler kvinnor tar del i den digitala framtiden. Ett exempel är en serie "Women In Technology"-aktiviteter som bolaget initierat över hela Europa för att göra kvinnor mer synliga inom tekniksektor. 2021 introducerades Huawei Women Developers-program (HWD), som syftar till att ge kvinnliga utvecklare möjlighet att skapa applikationer och verktyg.
Hållbarhet och miljö är alltid högt upp på Huaweis agenda. Förutom att fortsätta tillhandahålla grön 5G-teknik och solenergisystem, arbetar bolaget tillsammans med partners i Europa för att minska koldioxidutsläppen och uppnå målet om koldioxidneutralitet till 2050. Genom ICT-utbildningar har unga talanger lärt sig hur tekniken skulle kunna bidra till en mer hållbar värld.
På Summiten, tog åtta Seeds for the Future-alumner tog plats för en diskussion om hur studierna påverkat deras syn på hållbarhet och hur teknisk utveckling kan bidra. Gruppen var eniga om att programmet bidragit till deras utveckling och att de vill fortsätta arbeta med teknik och innovation för en bättre värld.
Ett konkret initiativ som stödjer unga kvinnliga talanger i Europa är School for Female Leadership in the Digital Age, ett veckolångt kostnadsfritt stipendieprogram med masterclasses, teamprojekt, aktivt lärande och kulturella upplevelser. Ansökningen till nästa kommande upplaga, som kommer att hållas i slutet av februari 2022 i Nice, är öppen till den 3 januari 2022