När Sveriges största tävling för spelutvecklare, Swedish Game Awards, gick av stapeln var studerande från Yrgo, högre yrkesutbildning Göteborg nominerade i flera kategorier.
 Resultatet? Vinnare av både "Best Execution in Design" och den mest prestigefyllda kategorin "Game of the year 2021".
– Med vinsterna i Swedish Game Awards så är vi nu uppe och konkurrerar på högsta nivå bland spelutbildningarna i Sverige, vilka globalt sett håller högsta kvalitet. Jag är så otroligt stolt över våra studerandes insatser, säger Robert Esbjörnsson, lärare för Game Creator Programmer på Yrgo.
Swedish Game Awards har anordnats årligen sedan 2002 och är öppen för alla som ännu inte arbetar professionellt i spelindustrin, främst studerande. Inför galan den 29 oktober var Yrgo nominerade i sex av sju kategorier. I slutet av kvällen stod det klart att spelet The Tale of the Greenhouse vunnit "Game of the year 2021" och spelet Beer & Plunder vunnit "Best Execution in Design".
"Nu får resten av världen se"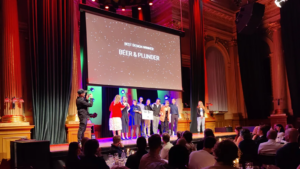 Yrgos två spelutbildningar, Game Creator Artist och Game Creator Programmer, är tätt integrerade och de studerande samarbetar i flera olika spelprojekt under hela sin utbildning.
– Nu har vi fått ett kvitto på vad vi kan åstadkomma när vi arbetar tillsammans. Som lärare ser vi engagemanget och slitet som våra studerande lägger ner i sina spel varje dag och nu får även resten av världen se det. Det är stort, säger Max Friberg, lärare för Game Creator Artist.